Clementine and the Spring Trip (the sixth book)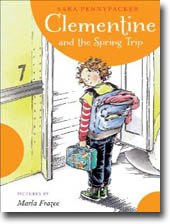 For Clementine, spring is a really big deal. It's the time for seeing her apple tree start to grow, for watching her friend Margaret go crazy with spring cleaning, and for going on the school trip to Plimoth Plantation. Clementine is ready for Ye Olden Times, but she isn't so sure about surviving lunch there — the fourth graders have strict rules about no eating sounds. If that wasn't enough, Clementine also faces the challenges of learning Olive-language and surviving The Cloud on Bus 7.

Hyperion Books, Paperback, 160 pages

Clementine (the book where it all started)
In this first book of the series, Clementine tries to help out her friend Margaret, but ends up in a lot of trouble for it. Things get worse each day of the week, until finally she's worried that Margaret is right: Clementine's parents might consider her "the hard one" in the family. They're up to something mysterious...are they thinking they'd be better off if they only had her little vegetable-named brother..."the easy one"?
Hyperion Books
Paperback, 160 pages

The Talented Clementine - (the second book in the series)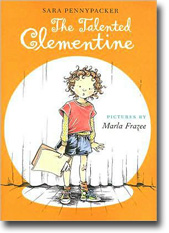 The fourth and fifth graders are putting on a talent show to raise money for the school's Spring Trip. Clementine has plenty of talents, but not a single one that she can perform on a stage. Margaret, on the other hand, has so many she has to organize them alphabetically. As the night of Talent Palooza draws closer, Clementine grows desperate for an act - any act - she can perform. Meanwhile, at home, shoes cause a big commotion...
Hyperion Books
Paperback, 152 pages

Clementines Letter (the third book in the series)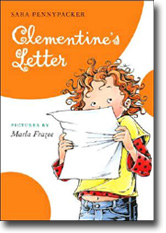 Uh-oh! Clementine's teacher might be leaving the class, after she's finally figured out how to get along in his classroom. She hatches a plan to get him back, even if it means ruining his chance for a once-in-a-lifetime adventure...
Hyperion Books
Paperback, 160 pages

Clementine: Friend of the Week (the fourth book)
Margaret makes Clementine worry that her classmates won't find enough good things to write about her in her "Friend of the Week" booklet. Clementine devises a campaign to win the kids over, which backfires. Meanwhile, her beloved kitten, Moisturizer, vanishes, and Clementine must face the possibility he is lost forever.

Hyperion Books
Paperback, 144 pages


Clementine and the Family Meeting (the fifth book)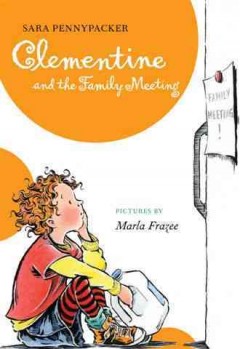 Clementine's having a nervous breakdown. The FAMILY MEETING! sign is up in her house, and she just knows she's in trouble for something. As far as Clementine is concerned, the agenda should be something like: "We're getting a gorilla." But no, it's something entirely different.



Hyperion Books
Paperback, 176 pages